Andy Warhol
at the Ashmolean, Oxford.
'The substance and significance of Andy Warhol's art becomes more evident with each passing decade and this exhibition aims to add to what we know about Warhol by highlighting unfamiliar and surprising works from across his career'
, Ashmolean director Alexander Sturgis explained.
In collaboration with the Hall Art Foundation, the exhibition includes over 100 paintings, screen prints and drawings. The collection consists of a number of slightly less-viewed works that show a darker side of the artist. The exhibition opens with Warhol's early pop portraits and includes works from key series such as
Flowers
Flowers
and the
Brillo Soap Pads Box.
The main room of the exhibition is dominated by a display of Warhol's commissioned portraits spanning the 1970s right up to the year before his death. This display highlights Warhol's power as a 20th century portraitist.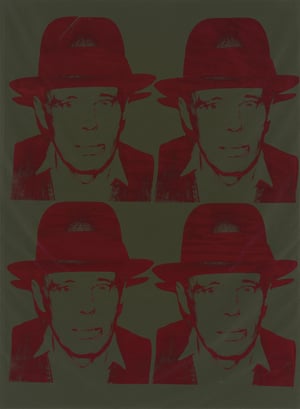 Joseph Beyus.
As we progressed through the exhibition the works became darker showing Warhol's obsession with death and with his own mortality. This fear of death began when Valerie Solanas shot him in 1968 and concluded when Warhol checked into hospital in 1987 for a gallbladder operation that proved fatal.
The
Map of Eastern USSR Missile Bases
aimed at America is not a political statement, but a statement of death.
666 The Mark of the Beast
is another of his late paintings.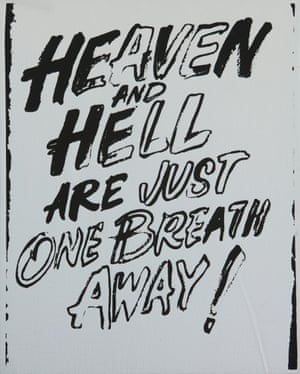 Heaven and Hell are Just One Breath Away (image taken from the Guardian)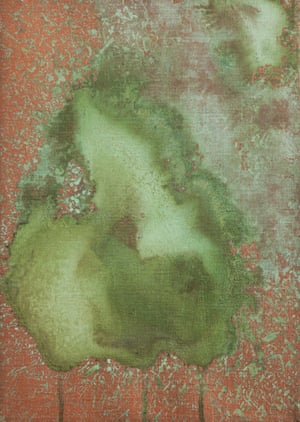 I had not seen his oxidation paintings before. Warhol and his associates at the Factory made them by urinating on copper paint.
Despite the crowds we enjoyed this exhibition and it was a treat being able to see some of his lesser-known work, a lot of which I was unfortunately, not able to photograph, as photography was not allowed.