I have been following this story which I find empowering and inspiring so I thought I would share it:
When Columbia University student Emma Sulkowicz was brutally raped in her dorm room she felt she could not ask for help but after hearing that two other Columbia students had been similarly attacked by the same student she decided she had to speak out. She was treated abysmally by the police and by the University. Ignorant about the scourge of campus violence, one of the panellists in her second hearing which took place 7 months after the disclosure, asked her how it was possible to be anally raped without lubrication. Sulkowicz had to relive the experience and explain in great detail how she was beaten and how anal rape worked. Her rapist was found 'not responsible' in all three cases.
'I feel like I've carried the weight of what happened there with me everywhere since then'
, she said and decided that she had to visually articulate this burden. For her senior thesis, entitled
'Mattress
Performance'
or
'Carry That Weight'
, she decided to stage a performance that involves her carrying
the mattress everywhere until the man is expelled from the University. For the project, Sulkowitcz explained that she is not allowed to ask for help in carrying the mattress around, but will accept help that is offered.
An art performance, a political statement against sexual violence against women and a symbol for the burdens faced by survivors of sexual assault, two weeks into the protest, Sulkowicz's protest/performance has resonated well beyond its immediate context. A letter has been signed by students asking the president to start dealing with the problem of sexual assault which is rife on campus; hundreds came out on campus last Friday to protest the university's policies and to have a public speak-out where students shared their own experiences of assault; mattresses have been piled up on the ground or used as banners, decorated with slogans.
Finally, students have been organising 'collective carry' events to assist Sulkowicz's cause both physically and symbolically, thus adding another dimension to the performance.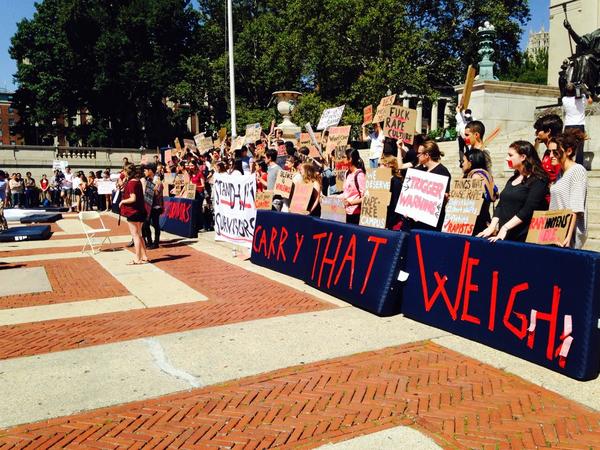 Sources:
http://news.artnet.com/people/columbia-students-performance-art-catalyzes-a-full-fledged-protest-movement-102061?utm_campaign=artnetnews&utm_source=091514daily&utm_medium=email
http://www.theguardian.com/commentisfree/2014/sep/02/-sp-campus-rape-prevention-yes-means-yes
http://www.independent.co.uk/news/world/americas/columbia-student-emma-sulkowicz-vows-to-carry-mattress-around-university-until-her-alleged-rapist-is-expelled-9712534.html