Snow started falling around 9:00 last night.
This is the view from our balcony at 8:00 this morning and the snow was still falling.
Snow in Athens is an extremely rare occurrence (even though this is the second snowfall in two weeks this winter) and people are understandably excited about it.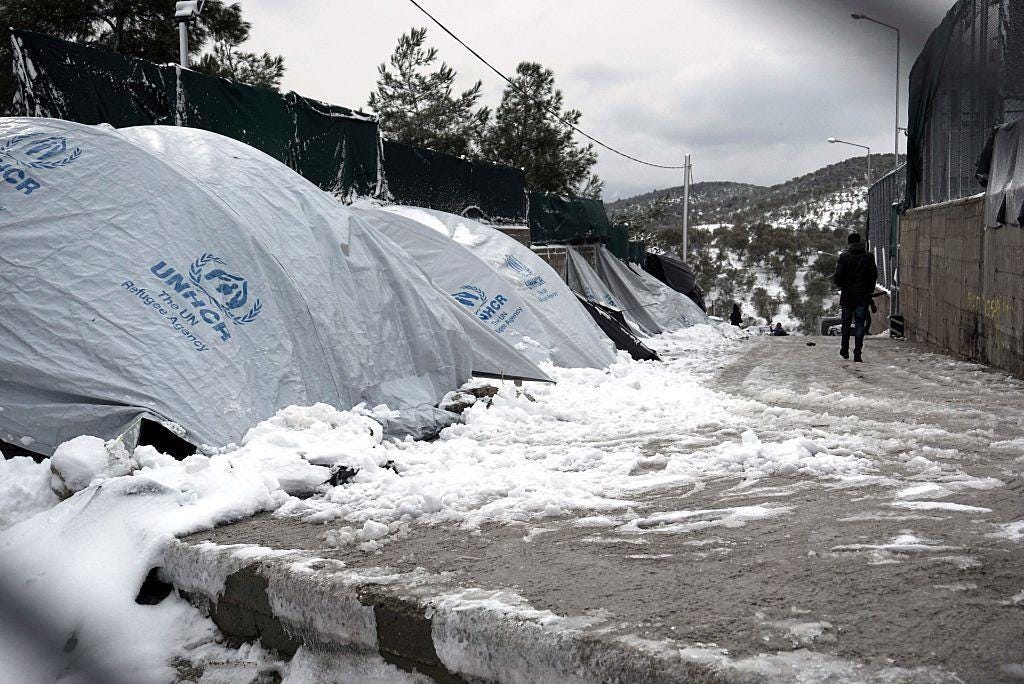 No such excitement in Moria refugee camp in Lesvos however, where 4,500 people are still living in overcrowded conditions in thin summer tents. At least one Afghan man died in the freezing conditions last week.
'The situation right now in Moria is dramatic'
, said Efi Tsaloudi, a volunteer with Lesvos Solidarity.
'There are a lot of people living in camping tents which broke last Saturday morning as they could not withstand the weight of the snow'.
As Greece heads into its most difficult winter yet, and the question now being asked is whether the country will ever be able to bounce back, the European Commission has washed its hands off the refugee crisis, saying in a statement that the Greek refugee situation is
'first and foremost'
the responsibility of the Greek authorities. Last year saw two elections; a referendum; the imposition of capital controls; cliffhanger parliamentary votes; Athens' closest brush yet with bankruptcy and euro exit; unemployment soaring above 30%; disposable income plummeting by more than 25% and yet the country is meant to deal with a huge refugee humanitarian crisis. Shame on you Europe!